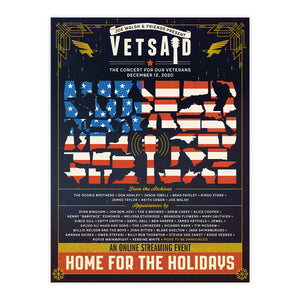 VetsAid 2020 artwork and lineup are printed on an 18x24" poster. Actual poster will reflect final lineup. 
ITEM SHIPS AFTER EVENT AND WILL NOT ARRIVE IN TIME FOR HOLIDAY DELIVERY
100% of all proceeds will go to VetsAid, a national 501(c)3 non-profit organization founded by rock legend Joe Walsh to raise and disperse sorely needed funds to veterans groups across the country that are serving the men and women who served our country with the dignity, compassion and honor they deserve.